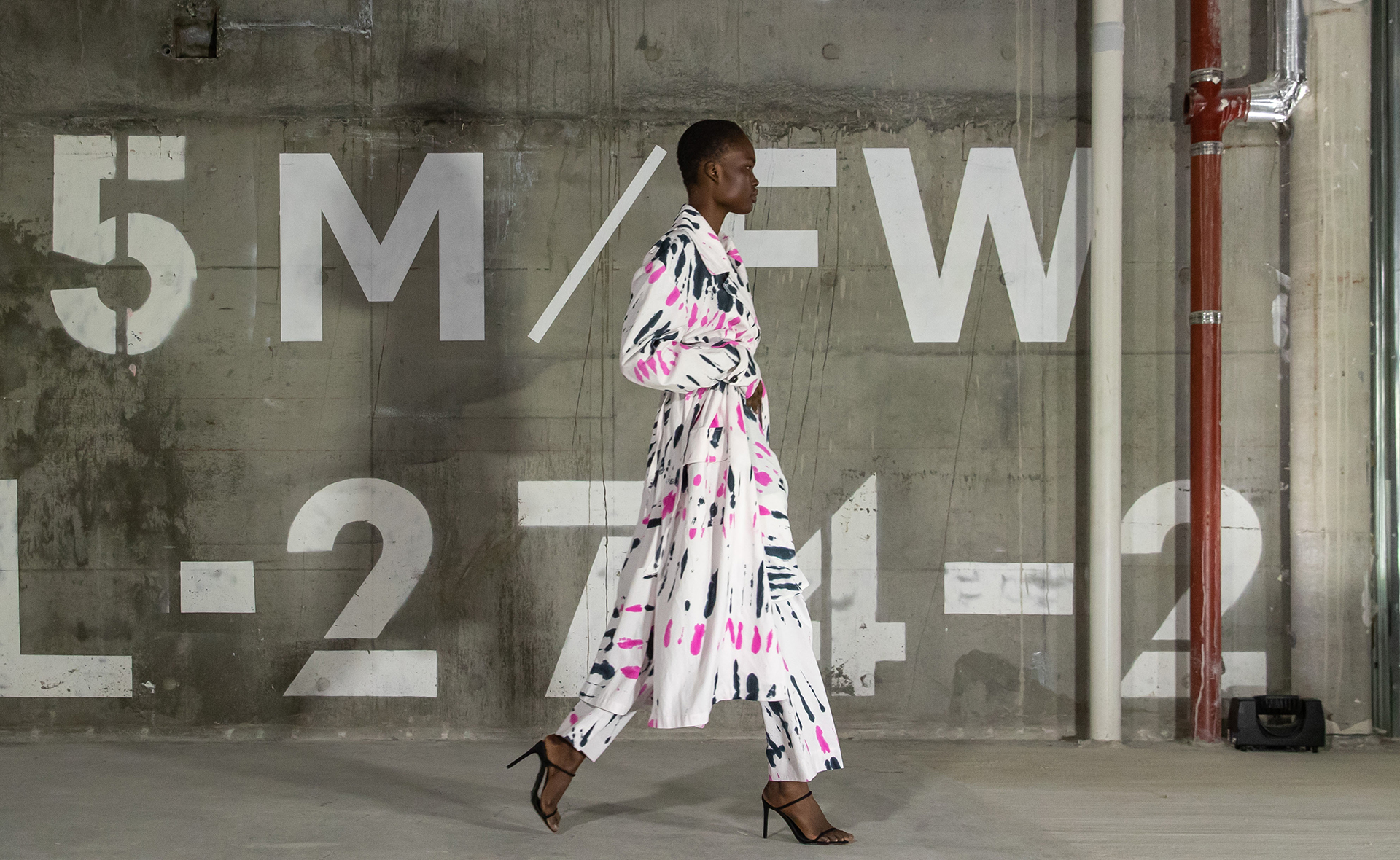 UPPAREL Joins Melbourne Fashion Week
Melbourne Fashion Week (M/FW) commitment to sustainability in the fashion industry has been a key focus over the years and this year is no different. Whilst 2020 has been challenging in Melbourne, M/FW has stepped up to raise awareness and highlight the importance on ending textile waste and taking responsibility for the end life of clothing.
Throughout Melbourne Fashion Week (23-29 November) UPPAREL will have collection hubs spread across the CBD allowing visitors to drop off their old clothes and ensure they're kept out of landfill through our pioneering reuse and upcycle program.
In addition to our sustainability partnership and another first for UPPAREL, we will be showcasing our upcycled collaboration with Homie on the runway at Melbourne Fashion Week. In March 2020 the REBORN BY HOMIE line was launched with an overwhelmingly positive response (we're not surprised). Through our unique and impactful partnership, pre-loved denim collected at UPPAREL is being transformed into a REBORN BY HOMIE collection, raising awareness on upcycling and with 100% of proceeds going towards supporting young people affected by homelessness or hardship.

Melbourne Clothing Recycling Hubs
Upparel has partnered with M/FW to lead the change to reduce the amount of Melbourne's clothing waste. The initiative will see M/FW and Upparel partner with precincts, stores, shopping centres and tourism destinations across Melbourne to host a clothes drop point.
Event attendees are invited to one of the following clothes drop points to discard their unwanted clothing and be a part of the change necessary for the next generation:
To find out more, visit https://mfw.melbourne.vic.gov.au/event/upparel-upcycling-initiative/
UPPAREL Clothing Collection Boxes
In April this year, following numerous partnership requests, we developed and went into production for our in-store collection boxes with the intention of making clothing recycling conveniently accessible to more people.
With our commitment to reducing waste, our Clothing Collections boxes are made from 100% Post-consumer plastic waste and have been designed to be recycled and repurposed when they're no longer fit for use…. Of course!
About Melbourne Fashion Week
Melbourne Fashion Week (M/FW) runs from the 23–29 November with an entirely free program featuring both digital and in-person events. This year has seen many changes due to COVID-19 and M/FW has reset and adapted their entire supporting process. From local designers and retailers, M/FW '20 is a new celebration of the physical and digital new worlds of fashion. This year will feature online shows highlighting collections exclusively from Melbourne's top designers. Talking with industry experts unpacking timely topics, the week-long event is the perfect time to discover and celebrate Melbourne's fashion scene.
Since Melbourne Fashion Week began 26 years ago, they've recognised that conversations on fashion and the practices that follow are leaning towards longevity, mindful purchases and transparency. This year has seen M/FW adapt to a seasonless model to support local designers and retailers, while also championing a slower, more sustainable fashion cycle.
M/FW have given designers the opportunity to showcase evergreen, past-season's garments or new-season collections, while also covering topics on sustainability and ethical practices. Throughout the M/FW Conversations series the showcasing of vintage looks while continuing to spotlight designers who embrace ethical, sustainable practices.
The Incredible Transition of HoMie
HoMie is one of those incredible businesses, started by three friends, eager to break down the stigma associated with homelessness. They came together back in 2015, originating with a Facebook page – Homelessness of Melbourne, drawing attention and awareness to the everyday stories of everyday people affected by homelessness. It ultimately allowed those people to share their own stories in a dignified way, offering the opportunity to destigmatise and humanise the issue.
2016 saw Incorporated Enterprise and a retail pop-up at Melbourne Central, with a singular monogram tee and a few other brands hanging on racks. After a short while at the pop-up, HoMie moved into the now flagship store at 296 Brunswick St, Fitzroy.
The flagship store now acts as a base for their two social impact programs – VIP Shopping Days and a training location for the HoMie Pathway Alliance Program, as well as where they can showcase their latest collections across all seasons. From one monogram tee to multiple collections and two solid social impact programs – it's fair to say the HoMie team is excited to see how the brand has evolved over the years in making and creating impact in their community.
They are an organisation that supports young people affected by homelessness or hardship to equip them with skills, confidence and experiences to be more work-ready and better prepared for their future.