Changing the whole system, UPPAREL is Australia and New Zealand's leading textile recycling company. We are trusted and transparent and we are here to create change for future generations.
Our commitment to leave a positive impact for the next generation is echoed through the triple bottom line framework – people, planet and profit.
UPPAREL is first and foremost built to protect and preserve the planet for the next generation. With an overarching mission to eradicate textile waste from landfills, our decisions are driven by what will make the greatest positive impact on the environment.
Each and every item that comes to UPPAREL avoids landfills, helping decrease greenhouse gases and overall waste.
Giving consumers and partners the opportunity to do the right thing with their textile waste, our environmental impact is subject to those who play their part. Leading the way in building the fashion industry into a circular economy, our environmental impact is just beginning.
Striving for a more circular design, the fashion industry is in dire need of a change from its linear structure. We wholeheartedly believe that environmental sustainability leads to financial and commercial success. UPPAREL is proving to the fashion industry that profits do not have to come at the expense of the planet.
By helping partners lessen their environmental impact, we are changing the overall textile industry for the better. UPPAREL are paving the way for this industry to do better, be better and encourage better.
UPPAREL operates for the next generation to not only survive but thrive.

From factory workers to in-office employees, we offer an inclusive workplace for anyone who wants to join us. Whilst trailblazing a whole new circular industry, we want to create equal quality opportunities for all.

With an open-door policy for non-for-profits, we want to give back as much as we can, where we can.

Nothing that you have at home needs to end up in landfills. Waste is a resource and we hope Australians can see this as well.
Michael Elias
CEO of UPPAREL
Converting Waste into a Valuable Resource
Did you know the average Australian purchases 27kgs of textile per year and throws out 23kg?
Seeing the amount of textile waste produced on a daily basis, the UPPAREL philosophy has always been how to turn the linear fashion economy into a circular one. 
We still don't have it all figured out or all the answers but leading the way in decreasing textile waste has been an epic journey – and we are just getting started!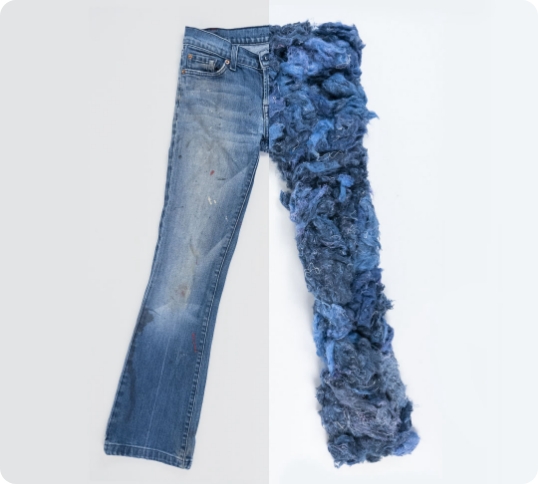 500 Partners
65,000 Upcycling Pioneers
Certified B Corporation
500 Partners
65,000 Upcycling Pioneers
Certified B Corporation
Made up of clothing, linen and shoes — this is how many items we've been able to save from landfill. Keep an eye on this space, we update this regularly to celebrate our epic impact!
For every single kilogram you send to us you will prevent 3 – 4 kg of greenhouse gases from polluting our atmosphere. That ought to help you breathe a little easier (literally!).
This is how many kilograms of textiles we've been able to save from landfill. Check back soon and watch the number go up!
We're seeing the majority of the items that we collect fit to be reused by those who need it most and support circular fashion.
Together with visionary partners we create opportunities to reduce and reuse waste with clothing donation bins, online solutions and more.
Thank you to those who've joined us in our journey so far towards textile landfill eradication. Let's make a difference together.
Are you a dynamic leader with a passion for sustainability and innovation? Do you want to be a part of a fast-growing company that is making a real impact for the environment and future generations? If so, we want you to join our team as an Operations Manager. As the Operations Manager, you will be responsible for leading and growing our operations team, driving innovation and automation, and inspiring a culture of excellence and continuous improvement.
View detail
Together, we can make an
impact today