By partnering with UPPAREL we're making sustainability even more convenient. Now you can recycle your old textiles from the comfort of your own home.
Keep your unwanted textiles out of the bin and get $25 to spend over 4 weeks on your deliveries of

plastic-free

groceries!
01. Register for collection.
Register for a collection of your unwanted clothing, linen and shoes. It costs $35 and provides you with an allowance of 10kg.
Plus — the collection fee is fully redeemable on product as you'll score $25 to spend over 4 weeks the first time you participate!
02. Gather up your unwanted items.
Put some music on and start going through your wardrobe! Why not put on a fashion show in your living room while you're at it?
Once you've finished your cathartic clean out be sure to give all items a wash and any shoes a quick clean! We can only accept clean items for reuse and recycling.
03. Book your collection.
Now you're ready to give those unwanted textiles a second life! Simply book your collection through the link in your confirmation email, then print and attach the generated labels to your box(es) and leave them outside for collection. We'll take care of the rest!
04. We'll organise the rest.
Our team will book your collection within 48 hours of receiving your request and provide you with a label to attach to your package. A courier from our third-party network will then come to pick it up from your front door!
05. Cash in your reward!
Jump online at MyMilkman and use your voucher to get $25 off your next 4 deliveries of plastic-free groceries and milk in reusable bottles.
Get Started
Get ready to clear out your wardrobe and we'll get ready to give your items their second life.
How do you keep my items out of landfill?
Reuse
If your items are sent in a suitable condition, then we can donate them to one of our charity partners for someone else to love.
We'll donate items that are in good condition to various charities, giving your clothes a new life.
Upcycle
If your items are past their prime, then we'll work with our recycling partners to turn them into something new like a tote bag.
The remaining items will be prepared for repurposing or recycling.
Recycle
If your items are damaged, they can be used to create new yarn or shredded and used for things like insulation or stuffing for pet beds.
Recycle
If your items are damaged, they can be used to create new yarn or shredded and used for things like insulation or stuffing for pet beds.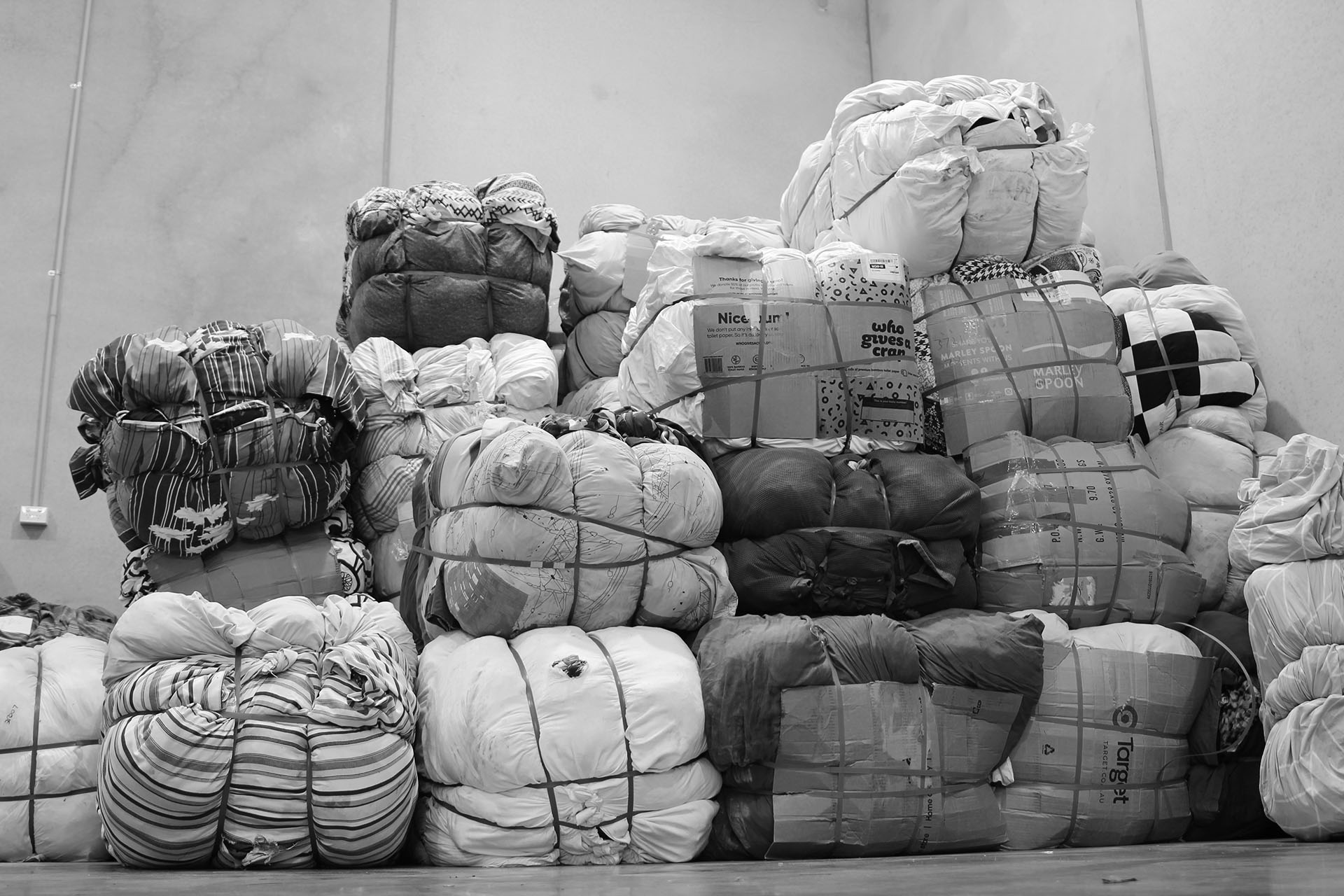 Got more questions?
We're happy to answer them!
We're both driven by Sustainability and Convenience.
At My Milkman we're fighting against single-use plastics, driven to use and reuse to cut out plastic waste. We use sophisticated route optimisation to minimise emissions from delivery and we conveniently deliver groceries on a flexible subscription to ensure that you never run out again. You can pause, cancel or amend your subscriptions and deliveries at any time in your account. You're in control.
UPPAREL have made it their mission to eradicate textile landfill. They're using the power of community to create awareness and educate people on the impacts of textile waste around the world. In addition to their sustainable essentials, UPPAREL have made it simple for everyone to make a difference by providing a super-convenient textile recycling collection service, making it easy for everyone to do good.